Pagoda Blog
Office 365 Editions: Is it Right for Your Business?
November 3, 2016
Image from digitalrivercontent.net
Only a month after Microsoft launched its new Office 365 Home Premium for individuals and families, the company also launched an update to Office 365 for business users. Office 365 has had both negative and positive feedback, the negative mostly comes from their licensing changes. However, small and large business owners alike should see what Office 365 has to offer. Below are some of the main features.
Cloud-based online versions of SharePoint, Skype for Business, Exchange, Word, Excel, PowerPoint and OneNote

Scaleable price points for small to midsized businesses

Office 365 ProPlus for up to five devices at only $150/year

Simplified IT tools for understaffed IT departments in smaller companies

File storage and sharing with 1TB storage per user
The thing that has really set this version of Office apart from the others is the scaleable price points for small to midsized businesses. Their monthly subscription model means business owners are only paying $5-$35 per month per user to have access to the substantial Office 365 software.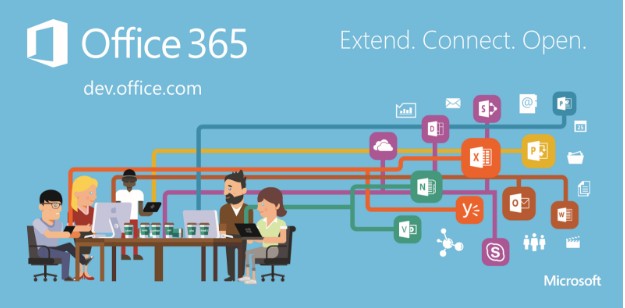 Image from: office.com
There are a few different versions for business owners to choose from: Office 365 Business, Office 365 Business Essentials, Office 365 Business Premium, Office 365 ProPlus, Office 365 Enterprise E1, Office 365 Enterprise E3, and Office 365 Enterprise E5. Each subscription comes with a bit more functionality and is intended to scale upwards as your company does.
Office 365 is trying to create a platform that will fit organizations of all sizes. This is good business for anyone, but especially for small business owners who up until now did not have access to this kind of cloud storage and internal communication software. Their monthly subscription plan is perfect for low budget startups, and makes way more sense than purchasing new hardware, servers, software licenses etc. Those alone could cost a small business thousands.
Finally, Office 365 is now cheaper than it used to be with the inclusion of Exchange for the cloud. This service used to cost users $20-$25/month, but market pressure for cloud services has forced Microsoft to lower their prices. Now it is only $4 per person per month!
Office 365 is a powerful solution to many of the challenges that business owners face, from the very youngest startup to the oldest corporation. If you think Office 365 is right for you, please give us a call and let us know if you have any further questions.
––––––––––––––––––––––––––––––––––––––––––––––––––––––––––
About Pagoda Technologies IT services
Pagoda Technologies is a globally recognized IT support company doing business in Santa Cruz, San Jose and all over the world who is working to help businesses and their IT departments run smoothly and efficiently. To learn how Pagoda Technologies can help your business, email us at support@pagoda-tech.com to schedule a no cost business assessment.
Return to Pagoda Blog Main Page